Relaxation Massage
Relaxation Massage is a great gift for yourself or someone else, relaxation massage is based on Swedish Massage and helps relax away stress and tension and relieve any aches and pains.



Purchase a Relaxation Massage Therapy Voucher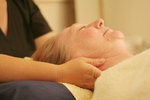 If you don't have any aches and pains and just want to have or buy someone else a voucher for a pamper session to relax stress and tension, we can do that for you too!  We play Mozart for you quietly in the background (unless you don't want us to)  and use certified pure essential oils and other natural oils for your treatment.    Sometimes we find tight areas you didn't know you had, so we use gentle Pain Neutralization Technique on these areas. 
You will be given privacy to get ready and a large towel to cover yourself and get onto the table before your therapist returns to the massage area to start your massage.  During your massage we uncover only the areas we are massaging.  We leave the massage area so you can get up and get dressed when the massage is finished.  
Testimonial from TC Rest Home Owner:
TC's comments: Thoroughly recommend Susanne's service, our sessions are now an essential part of my week, great for stress management and physical wellbeing.