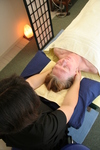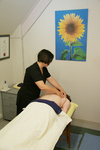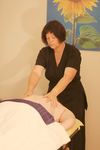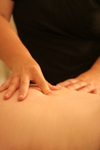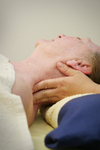 The Price for Massage Therapy is:
45 minutes = $65.00
90 minutes = $125.00

NB 5 minutes at the end of the treatment is included to sum up/give instructions as you are getting ready to leave.
Please see our specials page for new clients.

Testimonial from PH
PH is a semi retired dairy farmer from Waipu and has been having massage therapy every 2nd week since 2003. The reason PH started having massage is that one of his legs is longer than the other which causes imbalance and tightening of his muscles throughout his body. He used to get alot of pain until having regular preventative massages. We incorporated a mini BodyTalk as part of his session since 2006.
PH's comments:
suzannes massages & bodytalk gives relief from tired stiff muscles meaning one feels much more supple & relaxed I find about every 2 weeks suits me best it makes me able to do the daily tasks of life without feeling stiff & sore..the bodytalk part of the session gives improved metabolism which leads to a healthier body. PH

Remedial Massage Therapy
Massage helps to increase the circulation of blood into a tight area bringing nutrients and oxygen to the tissues and taking away carbon dioxide and acid buildup. It also helps lymphatic circulation which helps with immunity and removal of what the body doesn't need any more.
Massage is relaxing for your mind and your body, easing aches and pains. Your muscles attach to bone via tendons. If a muscle is tight, it will pull on the bone structure it is attached to, causing tightness and pain. Loosen the muscle with specific massage techniques and it will stop pulling on the bones.
When some people think of massage they think of it as a luxury, or a pamper session. Some massage therapists do offer just that. Suzanne has trained in post graduate techniques which help with clinical health problems so massage at Aches Away! is much more. Most of our clients think of massage as a necessity to help keep the muscles from tightening up, which prevents aches and pains, with the added bonus of feeling relaxed! Positional Release Technique, Muscle Release Technique and Manual Mobilisation and Trigger Point Therapy are incorporated in your Massage treatment, which are the main techniques to help your aches and pains. We are sometimes asked if we do deep tissue massage therapy, we do the equivalent in results, except without it making you want to tighten your muscles to guard against the pain that deep tissue can often cause.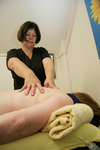 Or are you looking for a relaxing massage?
Relaxation Massage
If you don't have any aches and pains and just want to have or buy someone else a voucher for a pamper session to relax stress and tension, we can do that for you too! We play Mozart for you quietly in the background (unless you don't want us to) and use certified pure essential oils and other natural oils for your treatment. Sometimes we find tight areas you didn't know you had, so we use gentle Pain Neutralization Technique on these areas.
You will be given privacy to get ready and a large towel to cover yourself and get onto the table before your therapist returns to the massage area to start your massage. During your massage we uncover only the areas we are massaging. We leave the massage area so you can get up and get dressed when the massage is finished.
What can I expect at the session?
For your first visit, you will be asked to arrive a little early to fill out a form to save time in your massage therapy session. This will ask for details of your past accidents, injuries and health problems. We will discuss this briefly before you get ready for your massage.
Your privacy
Suzanne will leave the massage area for your privacy. You will leave your underwear on and there will be a large towel for you to put over top of you. The towels and covers are changed for each client. When you are on the massage couch and covered, you will let Suzanne know you are ready. You will be covered the whole time except for the areas being worked on. If you dont want a particular area worked on, just let us know.
Your case history notes are kept in a locked, safe place and will not be shown to anyone else. Your information is private, we do not discuss your health problems with anyone else.
Pain Neutralization Technique & Massage in the same session
When it comes to aches and pains I find PNT (Pain Neutralization Technique) is the best way to sort these out without the need to dig away at painful areas. PNT is usually how tight areas are released in a Remedial Massage Therapy session. It is usually more effective than anything else I know sort out aches and pains. For more information on Pain Neutralization Technique click here.
Testimonial
I unreservedly recommend anyone who is in pain to give Suzanne a go. I had hurt my back from incorrect heavy lifiting and was in significant pain. Prior to seeing Susanne, I had had six physiotherapy treaments over a 3 week period and was frustrated and getting down because the pain in my back was not lessening. After a treatment with Susanne, in fact the next day, i was completely pain-free and I am still pain-free. I am absolutely grateful. M.B.
BodyTalk & Massage in the same session
Some of our clients like to have both BodyTalk and Massage therapy in the same session, this is another option. As a BodyTalk Practitioner I do prefer you to have had a full 1st session of BodyTalk before we have mixed sessions (especially if you have any health problems or injury related aches and pains).
Prebooking
Please ring to prebook your appointment so you can come along at a time that suits you best. We will contact you the day before your appointment to check that the time is still OK with you and to remind you about your appointment.